Quiz Knock
Which is the Anti-Malarial Drug Trump Wants, Eric Yuan is the CEO of Which Company?
Seven days have passed since the last Quiz Knock, and it feels like a decade has gone by. The major news event, obviously, has been the coronavirus pandemic and the world's response to it. The pandemic has affected people and professions from all walks of life and all businesses and economies alike. So in this week's Quiz Knock, while some of the questions may not seem overtly to be about COVID-19, they all are related to the virus in some way or the other!
The Union Cabinet slashing MPs' allowances, the tussle between India and the US over exports of an anti-malarial drug, oil price wars, and merger and acquisition business by companies like HUL and Xerox - these are some topics we'll be tackling this week. Have you kept track? Take the Quiz to find out!
Here's what awaits you:
1) Hindustan Unilever Ltd (HUL) has paid ₹3,045cr ($403m) to acquire which brand?
2) India's largest private sector lender by assets is?
3) The Union Cabinet has approved an Ordinance slashing the pension and allowances of Members of Parliament by _____ for a year.
4) The Indian Government recently lifted a partial ban on an anti-malarial drug after US President Donald Trump threatened "retaliation". What is the name of this drug?
5) Global oil prices rose recently after touching historic lows after Trump said he expected Saudi Arabia and _______ to reach a deal soon to end their price war.
6) Instead of imposing restrictions, the Government of _______ has resorted to issuing recommendations and advising social distancing rather than mandating it. The idea is to let the virus propagate in a controlled manner so that the population can build a natural form of immunity.
7) Xerox has announced that it will be dropping its hostile takeover bid of _______.
8) So far this year, traffic on which of these websites has increased by 32% Y-o-Y?
9) Eric S Yuan is the CEO of company X, whose value has surged in recent weeks due to the coronavirus pandemic. However, even as Yuan has become a billionaire, X has become embroiled in immense controversy. New York even banned its usage in schools recently. Identify X.
10) What is this a graph of?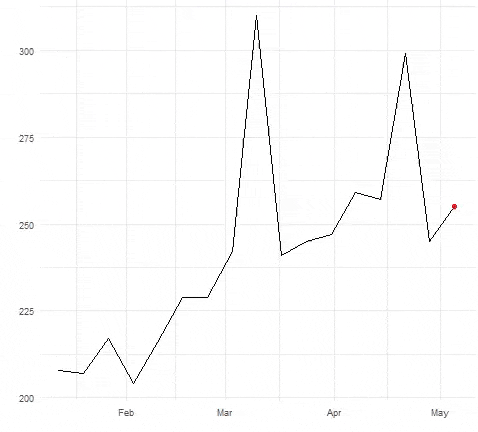 FIN.
Want to continue being an ace at Quiz Knock? Read our daily email newsletter, with brief and succinct explainers of the top news of the day smartly curated from the top news sources. Subscribe to the Wrap Up Newsletter if you haven't already!